In a recent blog post Bill Sheridan (click here to read) lamented the fact that one of his daughter's teachers had set the students an assignment and advised them that they would incur serious penalties of they collaborated.
He was, in my view quite rightly, shocked that in this day and age schools should be not only encouraging collaboration but teaching how to engage in it effectively.
I total agree with him and thought I'd share my comment …
This is precisely why so much creative talent is destroyed by some (sadly many) second rate teachers in the formative years of a young person's development.

I believe that in the not too distant future when you hire a new team member s/he will come to the job with a virtual network of colleagues willing and able to help. That is going to add an interesting hiring and management dynamic.

Jack Welch was famous for advocating the creation of the boundary-less organization structure. If I'm right that will be taken to the next level and we'll be seeing boundary-less business structures.
My reason for sharing this with you here in my is that I just got an email from McKinsey & Company which linked to a fascinating interview with Clay Shirky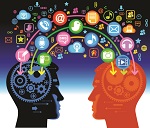 titled The Disruptive Power Of Collaboration.  Shirky is a professor of new media at New York University and the author of Here Comes Everybody: The Power of Organizing Without Organizations and Cognitive Surplus: Creativity and Generosity in a Connected Age.
Click on this link to view the video conversation and ponder the proposition: maybe there's something to what Bill is suggesting here.